ASID Interior Design Billings Index (IDBI) May 2021
Inquiries Index Increases and Outlook Maintains Strength while Billings Index Cools Down
May business performance continues to be optimistic even with the dip in billings from April's record high index.

Billings index decreased by 9.1 points to 59.1 for May, but still showing business growth*. This fall in billings is not surprising after the record-setting month of April (68.2).

The three-month moving average for the billings index is at 62.4, the second highest reading in the survey's history and demonstrates month-over-month stability.

Inquiries index* moved up 2.1 points to 66.8, indicating continued strength for future business.

Over the last three months, the inquiries index recorded readings ranked within the top 10 historically for the survey (March: 6th, April: 8th, May: 4th) showing peak performance.

All four regions registered readings above 50 for the month of May, led by the Northeast who increased by 5.8 points to 71.1 (Midwest: 57.4, South: 61.6, West: 53.8).
Six-month outlook remained unchanged at 68.0; this is the fifth consecutive month with a reading above 60 which means panelists have felt very optimistic about the future of business conditions for this year since the beginning of 2021.

Concerns surrounding COVID-19 are stabilizing as May is the third consecutive month achieving an average below three, at 2.68 for May (1- No concern/Business as usual to 5- High concern/Anxiety from disruption and unknown).
When asked about their change in virtual event participation once tradeshows/conferences return to in-person status, panelists see virtual events to have continued value with over half anticipating their level of participation not to decrease (28% expect to increase and 31% to stay the same).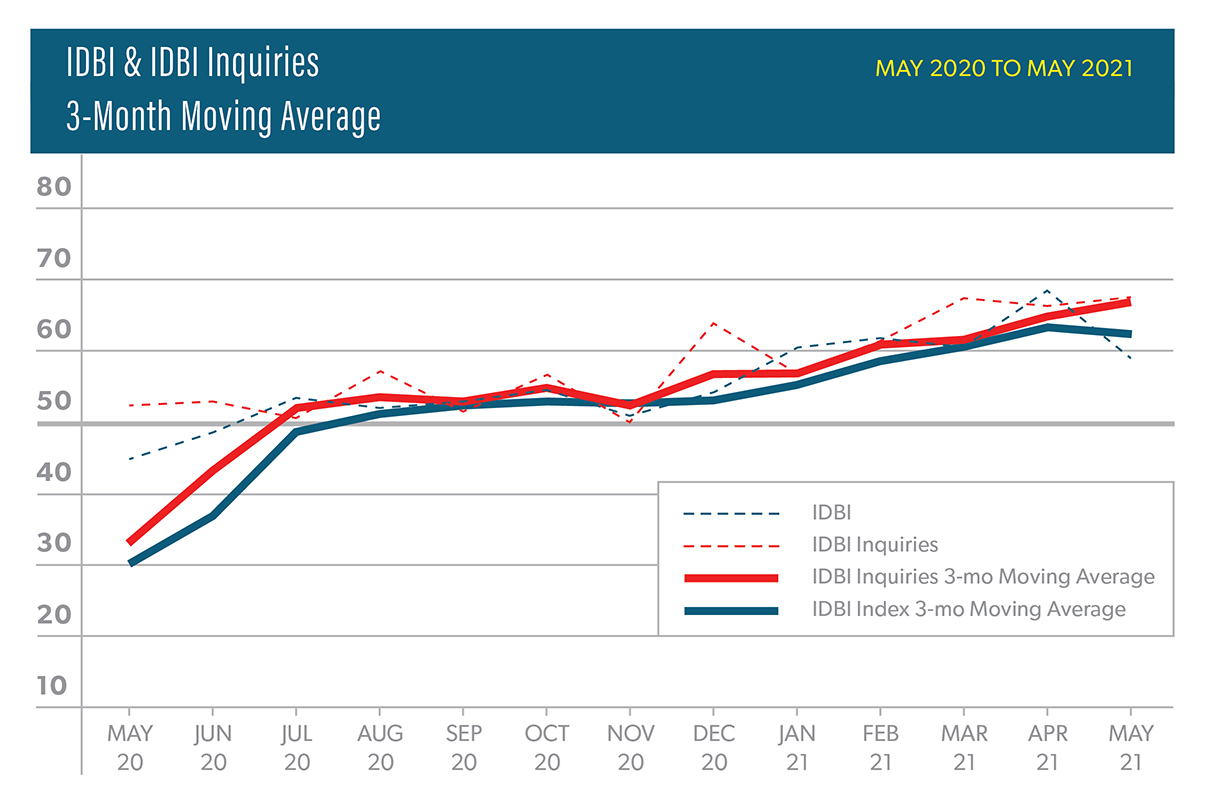 *Note: Any score above 50 represents expansion (i.e., growth) and below 50 represents contraction (i.e., decline).
Categories
Interior Design Billings Index (IDBI)